Andrew Puryear | Group Chief Technology Officer
13 minute read
In October 2020, U.S. Forces took part in an unnamed and classified wargaming exercise designed to test their new 'joint warfighting' concept. While details around the exercise are still murky two years later, it is believed that one specific scenario was based on a battle for Taiwan. The result according to John Hyten, Vice Chairman of the Joint Chiefs, was as simple as it was alarming: "It failed miserably". 
Hyten's description of the exercise at the launch of the Emerging Technologies Institute a year later detailed how the traditional concentration of forces for reinforcement and resupply left them vulnerable to overwhelming attacks. Even more concerning was that an almost instantaneous loss of network access at the start of the exercise confirmed a long-held fear that the west's long-enjoyed information dominance could no longer be taken for granted.
That reliance on informational dominance has been a feature of allied military operations for more than three decades. Hyten underscored the issue now faced: "everyone in the world, including China and Russia, have watched us do (this) for the last 30 years". The result is that today, our near-peer rivals possess (and are constantly developing) sophisticated capabilities designed specifically to deny us the advantages once held almost by default – an approach known as asymmetric warfare.
Everything everywhere all at once
The response to this sobering exercise was the issuing of three new directives by the US DoD: Contested Logistics, Joint Fires and a term that many of us are now very familiar with - JADC2, or Joint All Domain Command and Control. The sum of these three directives would be a final but constantly evolving directive: information advantage. 
So what does this look like? JADC2 and its equivalent programmes, such as the UK's MDI (Multi Domain Integration), should not be viewed as just a single physical thing, but instead, as a framework to combine new technology, processes, and organizations - all designed to enhance situational awareness, decrease reaction time, and enable continuous integration across all domains.
This synchronization of forces across every domain aims to enable the linking of any asset, with any sensor, through any C2 node. Achieving that will be no mean feat, and is now a core focus in the R&D efforts of many of the world's major defence companies, including Ultra.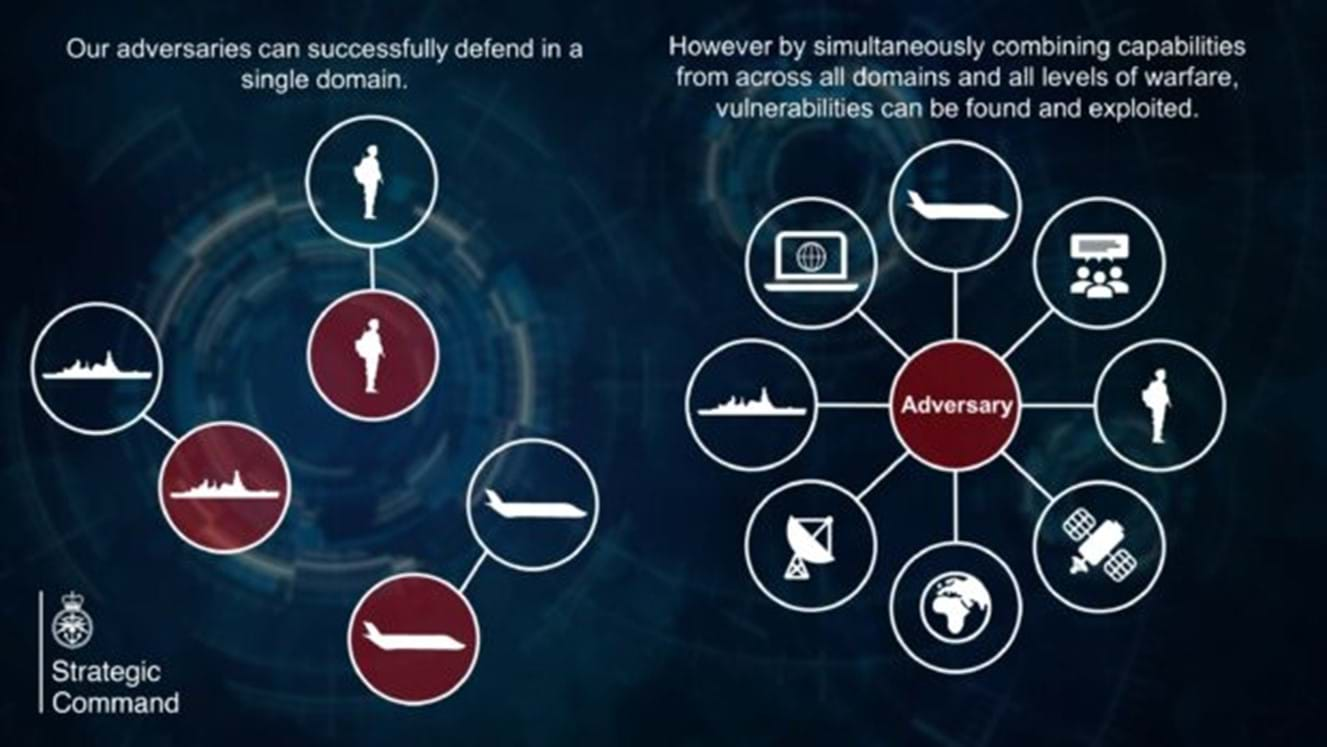 The Ultra difference
At Ultra we have been innovating for over 100 years and today serve as a vital partner of five eyes' defence efforts. In the new paradigm of JADC2, we are world leaders in a number of key technologies that are vital to military efforts to modernize toward such joint all domain operations. 
Our sonar and radar technologies help Maritime forces across the world detect and monitor the increasing activity of adversarial submarines, while Intelligence & Communication's wide range of tactical communications solutions help teams securely send and receive vital intelligence across some of the world's most demanding environments. ADSI, our battlespace awareness tool, is already one of the most interoperable Command, Control & Intelligence (C2I) systems available, with over 2,500 installations worldwide. And UltraLynx is a key enabler for the future deployment of smarter dismounted technology at the tactical edge.
These capabilities make Ultra an unparalleled expert partner, not just across domains but also across the sensemaking chain. We know how to generate, securely transmit, interrogate and act on the raw data in order to sustain the advantages that our forces need, even through next-generation contested environments. This expertise gives us the opportunity to make a real contribution in the push towards the next generation of innovation advantage and help keep our service men and women safer and more secure.
From data to decisions
Data is everywhere. This is true not just in defence but in our day-to-day lives – it is estimated the world produces about 2.5 quintillion bytes (that is 18 zeros) of it every single day. This can be an extremely powerful tool, but only when it is utilized in an intelligent way. Data on its own is not actually particularly useful. 
When we open Google Maps to check the best route to work we are not presented with reams of GPS data and a log of real-time traffic telemetry. Instead, we are clearly told that 3rd Avenue is RED and that an alternative route will be 15 minutes quicker. The software has taken a mountain of raw data and fused, analysed, and presented it to us in a way that helps us make sense of a situation and then quickly act accordingly.
What Google Maps and countless other consumer products are doing is bridging the gap between data and decisions. And this ambition is no different in the military. Indeed Ultra and other companies already do this today. Our SAMS and TacView products don't show a spreadsheet of incoming tracks from ships or aircraft – they place those tracks on a geographical map, where a user can assess the entire operating picture and drill down for more information if they need to.
This is important to our service men and women for the same reason it is important to us during our 8 am commute. Leveraging data to present a clear view of a situation reduces our 'cognitive burden' – the software has done the heavy lifting for us so that we can focus on making a smart decision. And we are able to make that decision much more quickly.
As we develop the next generation of Ultra solutions, this focus on moving from data to decisions is vital. When we talk to our customers about what we want to deliver for their users, our ambitions should move beyond merely generating more data and even beyond clearer information. Instead, we should be working to deliver Decision Advantage.
​​​​​​​
Cognitive + Integrated = Decision Advantage
As the universe of data we generate grows ever larger, and the threats we face emerge ever quicker, delivering decision advantage requires solutions that are more intelligent, agile, and connected. Cutting-edge technologies like artificial intelligence, machine learning, cloud, and edge compute are essential pieces of this effort. 
At Ultra, we are already making great strides in these areas – RAIN and ATHENA are just two brilliant examples of this. RAIN pulls data from three classification domains: unclassified, collateral, and classified, while its AI/ML engine continually monitors and harvests relevant data and provides it on an as-needed basis to analysts to enable ATHENA's real-time anomaly detection to keep servicemen and women safe on operations. Today, our development teams - led by our advanced concepts and emerging technology group Ultra Labs - are working hard to utilize the latest advances in these technologies. Our vision is an ecosystem of solutions that are Cognitive and Integrated.
These solutions will be multi-platform, multi-mission and multi-domain by design. Our sensors will work in concert to detect the undetectable. Our communications systems will ensure that information gets where it needs to go no matter what. Our intelligence systems will spot threats before they spot us. And our tasking solutions will recommend courses of action so that teams can respond in seconds instead of hours.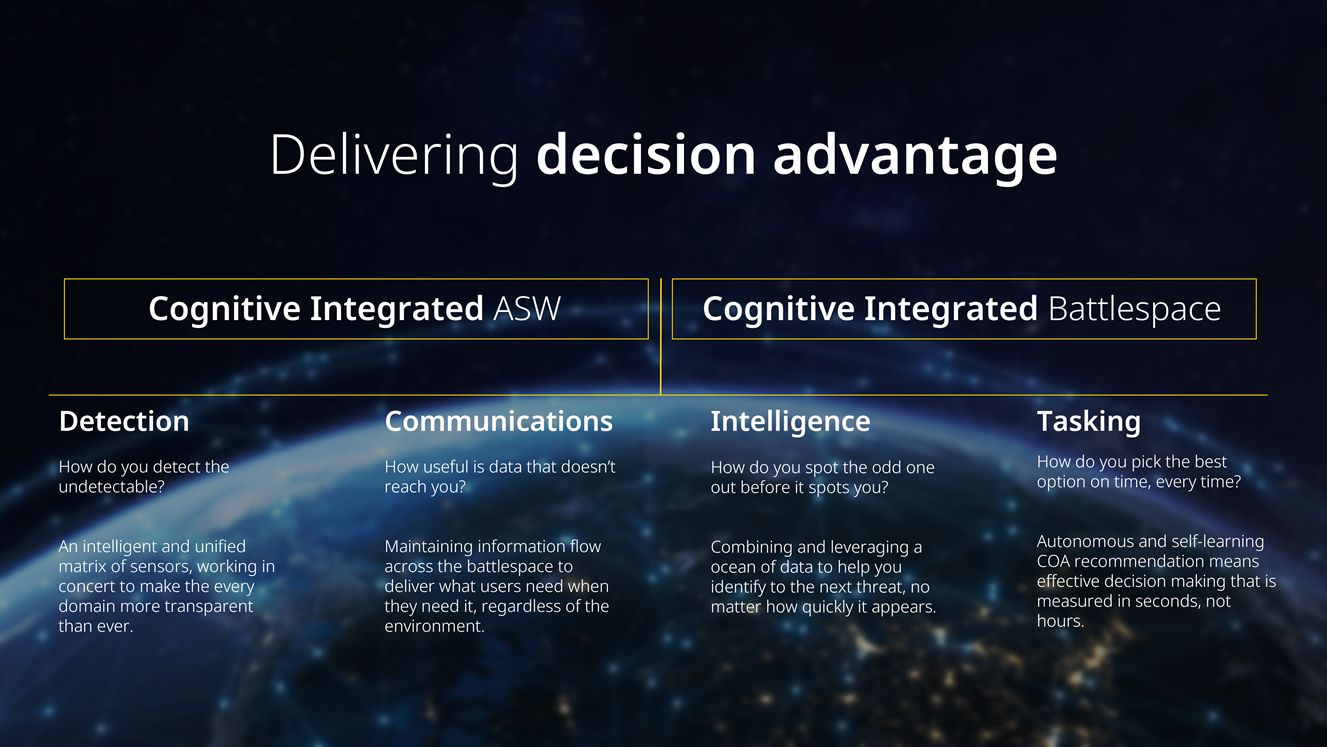 These developments are hugely ambitious. They span both the entire sense; make sense; act chain, as well as every domain we operate in. But at Ultra we are the smart people behind the smart people. We have the domain and technology expertise to achieve our vision, and every day I see our teams embody the values that have made us so successful these past few years.
We have everything we need to make a real difference for each of our customers and in turn, the men and women who keep us safe. So while the technologies and approaches we take evolve, our mission does not: to innovate today for a safer tomorrow.
---