In October 1996, the U.S. Air Force's chief of staff, Gen. Ronald R. Fogleman, stated, "In the first quarter of the 21st century, it will become possible to find, fix or track, and target anything that moves on the surface of the Earth." This promise completely altered the way we look at mission strategy. It would also lead to the birth of defense strategy models to identify and stop sophisticated attacks before they strike.
Military kill chain models—more specifically, F2T2EA—have been used to break down the multiple stages of an attack, allowing analysts and operators to identify, intercept, and prevent them. As a result, warfighters and military personnel are able to better understand relevant threats and improve attack management and response.
While this long-standing practice has been deemed a valuable asset, its relevance has come into question in recent years. From F2T2EA's overlapping processes to poor travel times to a lack of innovation, the kill chain's stalled growth has created a number of obstacles for the warfighter.
That's why intelligence experts, like Ultra Intelligence & Communications, are developing new capabilities to revitalize the kill chain for 2023.
Keep reading to learn more about the F2T2EA kill chain model's role in threat management, its challenges and vulnerabilities, and how Ultra I&C's solutions are modernizing the process.
What is the F2T2EA kill chain model?
In 1990, General John Jumper proposed a new kill chain acronym and dynamic targeting process for the U.S. Air Force called F2T2EA (find, fix, track, target, engage and assess).
Designed to be executed in 10 minutes or less, F2T2EA is broken down by using the following steps: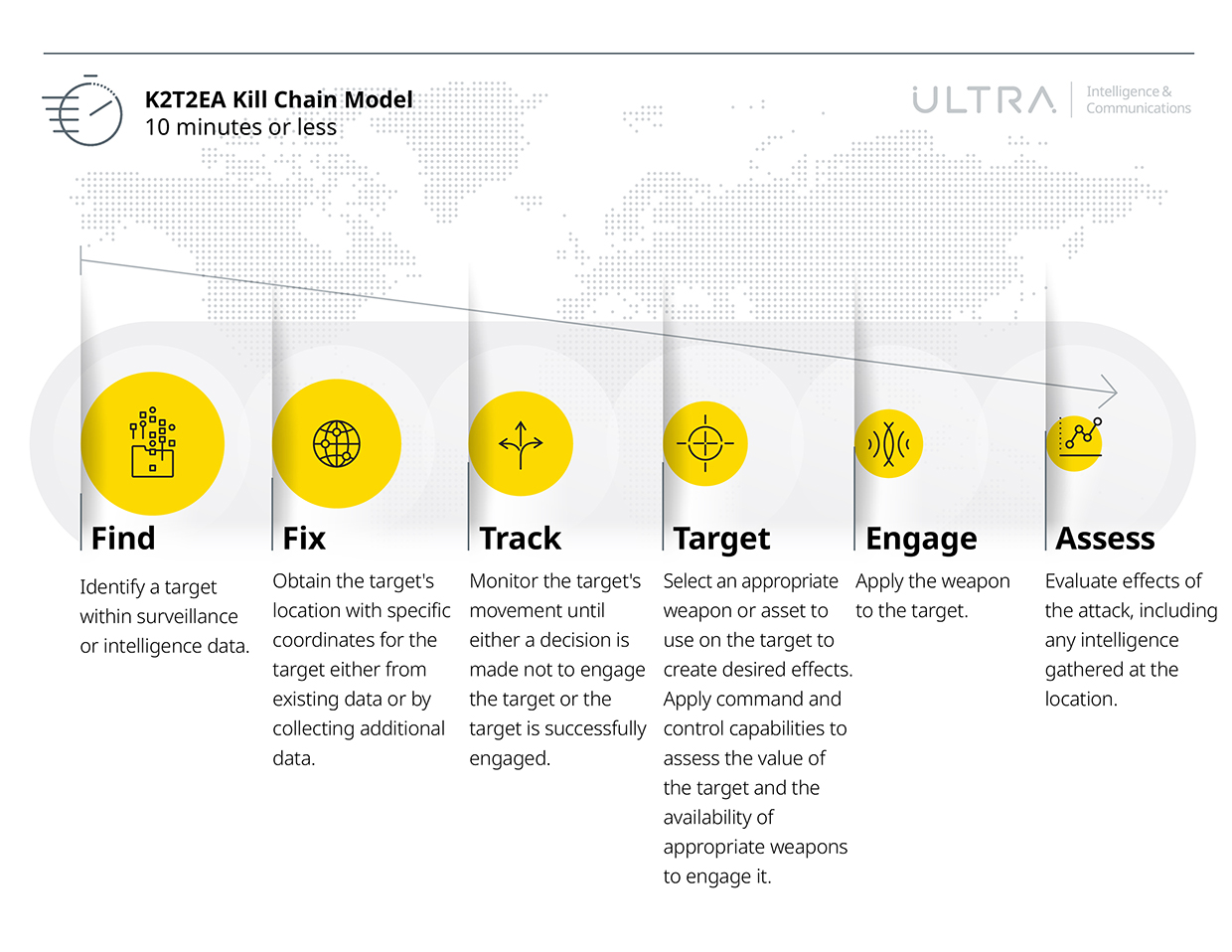 In military operations, the F2T2EA kill chain allows forces to be prepared and stay one step ahead during every stage of an attack. However, it's not without its flaws.
What challenges do F2T2EA users encounter?
The F2T2EA kill chain model has proven to be an important tool ever since its introduction in the late 1990s. However, over the last two decades, there have been few advancements or improvements to keep up with modern warfare. Due to shortcomings surrounding disorganized data and process disruption, this particular kill chain methodology's lack of growth has caused some organizations to lose faith in its effectiveness.
The more prominent weaknesses of the model is in regards to efficiency, timeliness and quality. With the evolution of mission strategies and new types of threats, the kill chain can produce delays in execution, such as the distance-time problem, as well as out-of-order processes. These can slow down reaction times and ultimately impact the overall mission.
Regardless of one's stance on the kill chain framework, addressing existing vulnerabilities and having a comprehensive strategy in place is crucial for mission success.
How is the RAIN solution reshaping the kill chain?

Secure, real-time data
Many of today's systems push limited information based on pre-established rule sets, and do not allow for the operator to query based on their own real-time, dynamic requirements. Operators require persistent, longer-range, wider-area and more complete data.
Using Ultra I&C's innovative RAIN solution, operational warfighters can access all the data they need in real time. RAIN pulls in information from the National Intelligence Community as well as unclassified data that is currently unavailable to the tactical war fighting level. This significantly reduces the amount of time spent manually sorting information to identify targets—ultimately shortening the kill chain and expediting decision making. 
Transformative capabilities for threat evolution
The development of recent technologies has paved the way for new attacks that lie outside the original kill chain framework. Innovations such as cloud computing, DevOps, IoT, machine learning and automation, have all broadened the scope of attacks by increasing the number of data sources and entry points. With access to all this secure data, it is critical to have solutions that can keep up with the evolving threat landscape.
RAIN is equipped to navigate potential threats and security breaches of varying magnitudes. By limiting authorized access to only the necessary analysts and operators, users will be able to secure the mission execution strategy, protect the network and eliminate data vulnerabilities.

Accelerated speed of execution
AI algorithms are employed in operational intelligence toolchains, meaning they are integrated into the real-time operational intel production pipeline to assist intelligence professionals in the mission to provide more timely intelligence.
The RAIN application makes it simpler to access and evaluate the right information. With this instantaneous data, users will be able to execute missions faster and develop educated responses.
The continuous evolution of attacks has led many to question the future of the kill chain. By incorporating RAIN's strategic elements and capabilities into the process, warfighters can identify a broader range of threats, prevent attacks and neutralize them faster and more effectively.
Visit the RAIN landing page for more information.