We are a leading global specialist in the design, development, supply and support of advanced ultra-light portable and driveaway satellite and troposcatter equipment for secure government, military and commercial broadcast communications through our GigaSat division. Our GigaSat solutions are designed to operate in the harshest conditions, ensuring that users have continuous access to reliable communications regardless of the operating environment.
Highly experienced in creating bespoke, integrating systems, we count several of the world's militaries, the BBC and Formula 1 amongst our worldwide customers. Whatever size antenna - 0.23m to 3.7m – and wherever in the world it may be required, our specialised team of engineers and technicians offer installation, integration and adaptation to local conditions, combined with a through-life, in-service support provision that safeguards operational capability even in remote environments.
Our solutions encompass driveaway antennas, portable antennas and troposcatter systems.
Driveaway Antennas
Manufactured from Formula 1 standard carbon fibre, Ultra's driveaway antennas are designed to be light and aerodynamic whilst withstanding challenging environments and extreme weather conditions without compromising the user's ability to access satellite communications.
Portable Flyaway Antennas
Our ultra-light portable antenna solutions are specially designed to operate in the harshest environments, ensuring that users have continuous access to reliable communications regardless of the operating field, location or mission requirements.
Troposcatter Terminals
Troposcatter communications terminals allow troops to establish a communications capability in the field of operation in areas where there is no access to a trusted source of satellite communications coverage, facilitating mission-critical communications between soldiers in the field and command and control.
Design, production and testing are kept exclusively in-house at our UK factory, dramatically reducing product lead times from an industry standard of months to a matter of weeks. Stringent in-house production standards have enabled us to receive the highest certifications of MIL-STD-810 and WGS.
Driveaway Antenna Solutions
Unpredictable at the best of times, broadcasting on the road demands the ability to quickly establish a robust and reliable transmission system. Manufactured from Formula 1 standard carbon fibre, driveaway antennas are engineered for ultimate dependability and ease of transportation, providing users with the ability to establish a satellite communications capability in the field, anywhere in the world.
Ultra's range of driveaway antennas include 1.0m, 1.5m, 1.8m, 2.0m and 2.4m antenna-based systems, suitable for C (1.8, 2.0 or 2.4m) X, Ku- and Ka-band transmissions. The most compact of the range, the 1.0m driveaway pod, can accommodate a single 200W HPA and upconverter, reducing waveguide losses, increasing available power and maximising available space. The larger antennas can comfortably accommodate a 1:1 redundant HPA configuration with upconverters.
Portable Antenna Solutions
Regardless of the operation, access to reliable communications is critical to mission success, especially in harsh or challenging environments where safety could be compromised and the inability to communicate could result in a threat to life. It is essential that satellite communications solutions are fit for purpose, easy to establish and able to withstand the demands of the environment in which they are required to operate.
We have taken a rigorous approach to testing in the development of these portable satellite antennas, taking every possible measure to offer reassurance that the antennas can be relied upon to operate in extreme temperatures, in any weather conditions and in any terrain.
In addition, the antennas have been optimised for portability, minimising size and weight requirements whilst maintaining ease of assembly to ensure they can be quickly deployed to any operating environment to establish a secure, reliable satellite communications capability without adversely impacting transportation or mission requirements.
Troposcatter
Operational requirements of today mean that troops are required to deploy to a variety of environments where access to satellite coverage and power is not guaranteed. Reliable, secure communications is a vital component of operations and is essential not only to the success of missions, but also to protecting soldiers' safety.
GigaSat's troposcatter terminal has been designed to operate in a multitude of environments, ensuring that troops conducting missions anywhere in the world have access to a reliable communications system. The terminals have the unique ability to be installed and aligned within one hour, delivering the fastest transportable operational communications solution available today.
Ultra GigaSat has undergone rigorous design, testing and development in bringing its troposcatter solution to market, ensuring it can be deployed to any field of operation, easily assembled with no requirement for additional components, and quickly establish a secure communications function.
The system has been optimised for transportability, weight and size, maximising the range of transport platforms that can deploy the terminal to site whilst not placing additional demands on the operation. Once installed and aligned, the terminal provides a stable platform to receive data, even under harsh conditions in severe environments.
In addition to battlefield use, troposcatter systems can be utilised in crisis response scenarios where establishing reliable communications could present a significant logistical challenge after a natural disaster. By deploying a troposcatter system, responders can establish networks without the requirement for power or satellite coverage, ensuring emergency rescue efforts can be quickly coordinated.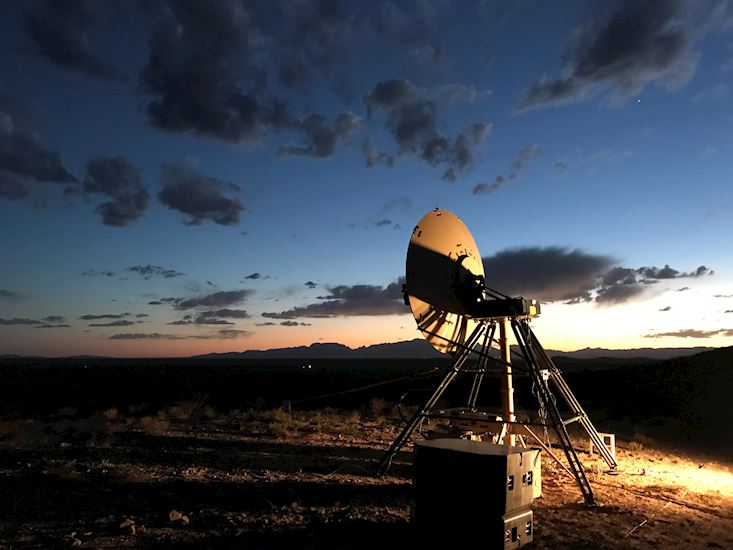 Contact Us
Other Communications capabilities
Other Intelligence & Communications solutions