With the proliferation of extremely quiet conventional submarines, and a new generation of quieter and more sophisticated torpedoes, rapid underwater threat detection and localisation is a critical operational capability.
We are a leader in the design, development and manufacture of both passive and active sonar systems. These state-of-the-art systems for warships and submarines offer superior detection, classification and localization of modern threats.
Designed to maintain a competitive edge in the face of asymmetric and evolving threats, our sonar solutions are available across a wide range of frequency spectrums, size, weight, and power constraints and are employed by military and defence research communities around the world.
Sea Lancer™
Sea Lancer™ Mission Module
Sea Lancer™ Compact
Sea Sabre™
Sea Sabre™ Mission Module
Submarine towed arrays
The SUBTASS Towed Array is a hard wired, analog passive acoustic array consisting of seven different module types and a stabilizing rope drogue. The SUBTASS array is designed for clip-on use by naval submarines in ASW applications. Array sensor configuration consists of a three octave nested hydrophone aperture, six non-acoustic channels, and six spare feed-through wire pairs. The array contains identical forward and aft non-acoustic sensor channels comprising depth, heading, and temperature.
A digital upgrade kit is available for SUBTASS that enables the array to be connected to a fibre optic tow cable system.
Omnidirectional Passive
Our Omnidirectional Sensor Modules (OSM) can be standalone or connected to any Sea Lancer™ or Sea Sabre™ array.  The OSM technology can be configured in many spacing and octave combinations from 10's to 1000's of acoustic channels spanning meters to kilometers of acoustic aperture as required.
Low Frequency Active Towed Body Source
Our LFA Towed Body is the ideal Low Frequency Active (LFA) Sonar Source where fast area search is critical. With our Free Flooded Ring (FFR) projectors at its core, the LFA Towed Body projects acoustic energy in a toroidal pattern that is uniform in azimuth. Each ping provides full 360° azimuth coverage.
FFRs are wide-bandwidth, high-efficiency projectors, comprising a piezoelectric ceramic ring housed within a neoprene boot. Individual projectors generate a toroidal beam pattern. The inherent vertical directivity of the projector focuses the energy horizontally to maximize range by reducing surface and bottom reverberation. The vertical directivity is enhanced when multiple FFRs are stacked in a vertical array configuration.
The bandwidth provided by the FFR enables the use of wideband transmissions that also minimize the effect of surface and bottom reverberation. The high-power FFR projectors are mounted inside a hydrodynamic towed body, providing a stable platform over a wide range of tow speeds. The towed body provides the tow cable attachment point and includes non-acoustic sensors to track temperature, orientation, and depth.
The LFA Towed Body is deployed and towed independently from the receiver array allowing the receiver array to be located far astern to minimize acoustic interference from ownship. A dedicated winch and handling system deploys, tows, and recovers the LFA Towed Body, storing it on a shock absorbing cradle on the stern deck.
The projector configuration within the towed body can be customized to suit unique operational requirements. Towed Body designs accommodate any of Ultra's family of FFR projectors covering a frequency range from 800 Hz to 10,000 Hz. Smaller diameter projectors operate at higher frequencies but emit lower maximum source levels. Ultra can also include multiple FFR models in a single towed body to address wide bandwidth or multi-band requirements.
Free Flooded Ring Projector
Our range of Free Flooded Ring (FFR) projectors have exceptional properties for low frequency active sonar applications: wide bandwidth (Q~1), high efficiency (up to 75%), and an unlimited depth capability. Our FFR designs operate from 800 Hz - 10 kHz; the most powerful FFR can produce source levels in excess of 220 dB per element at 1,000 Hz. The FFR projectors consist of a ring of piezoelectric ceramic contained within a neoprene boot and produces a toroidal beam pattern around the horizontal plane.
Free Flooded Ring technical characteristics are available on request.
Ring Shell Projector
Our range of Ring Shell Projectors (RSP) are a Class V flextensional that can produce a high acoustic output at low frequency. The family of RSPs are designed to operate over frequencies from 200 Hz - 1300 Hz, and produce an omni-directional beam pattern. With optional pressure compensation, an RSP typically has an operating depth up to 400 m and a safe immersion depth up to 500 m.
Ring Shell Projector characteristics are available on request.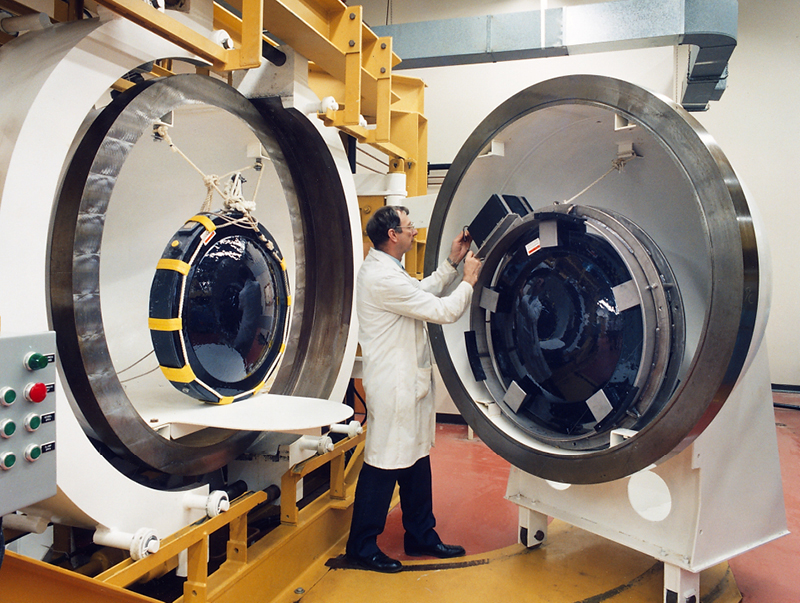 Modular Projector System
Our Modular Projector System (MPS) is a versatile method for manufacturing a low-frequency underwater sound projector. It is assembled from several small sound projectors that are mounted near each other. By exploiting the acoustic interactions amongst the projectors, the designer can choose the resonance frequency, bandwidth and output power of the system within wide limits.
Modular Projector System technical characteristics are available on request.
Resonant Pipe Projector
Our Resonant Pipe Projector (RPP) consists of a ring of piezoelectric ceramic attached to the centre of a large pipe. The ceramic ring excites the pipe, which acts as an acoustic waveguide. Because of its free flooded design, the RPP has an unlimited depth capability and can operate at/or below 250 Hz. The RPP was developed for the Oceanographic Community as a source for Sound Fixing and Ranging (SOFAR) experiments.
Other Sonar Systems capabilities